Patterns galore
January 22, 2012
Humayun's Tomb, New Delhi
This Sunday was spent quite productively. Having followed the group
Flavour of Art
on Facebook for the longest time, I decided to finally get over my Sunday-morning-routine (waking up, telling myself it's Sunday and falling asleep again.) to join them. The decision proved to be the right one as I met a bunch of extremely interesting people, explored a monument overflowing with history and got to brush up on my amateur sketching skills.
The moment I entered the complex, I walked to the main structure. After spending some time watching the other people there (it's a habit to observe people's behavior in various environments, to a point I assume is quite improper), my attention was drawn to the architecture of the monument. The most prominent thing I noticed about it was the variety of patterns used in the construction. I curse myself for forgetting my camera at home, but I did get a few shots from my phone.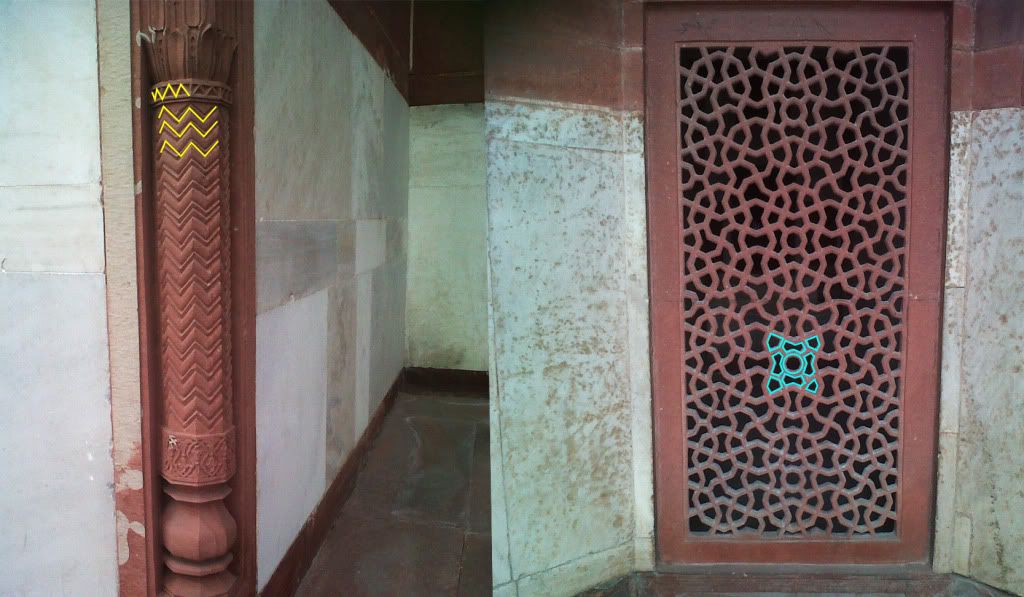 Pillars and window screens on the main structure
Many components like pillars had a mixture of geometric patterns and patterns from nature. Some others had seemingly hap-hazard shapes which made lovely pieces of window art when repeated. The ease with which the elements were used by the artisans of that time amazes me. They feared no shape, a disease that often plagues many of us.
Six-pointed star in various parts
Six-pointed star above the entrance and exterior arches
Another interesting aspect is the use of the six-pointed star in the architecture. At first what seemed like a simple use of a common shape, the star was found above the entrance and gracing the cenotaphs (empty graves with the real one in the basement), and I soon realized that it probably held some cosmic importance..
Apart from the structures, the morning tryst with nature was very refreshing. The place is a sanctuary to birds like mynas, parrots and hawks; who very frequently invaded the skies (I wore a hat.). It was a treat to visit the garden tomb of Emperor Humayun (which research tells me is the first one to be made in the Indian subcontinent!). Here's hoping next Sunday upstages this one!