A week in photos
August 12, 2013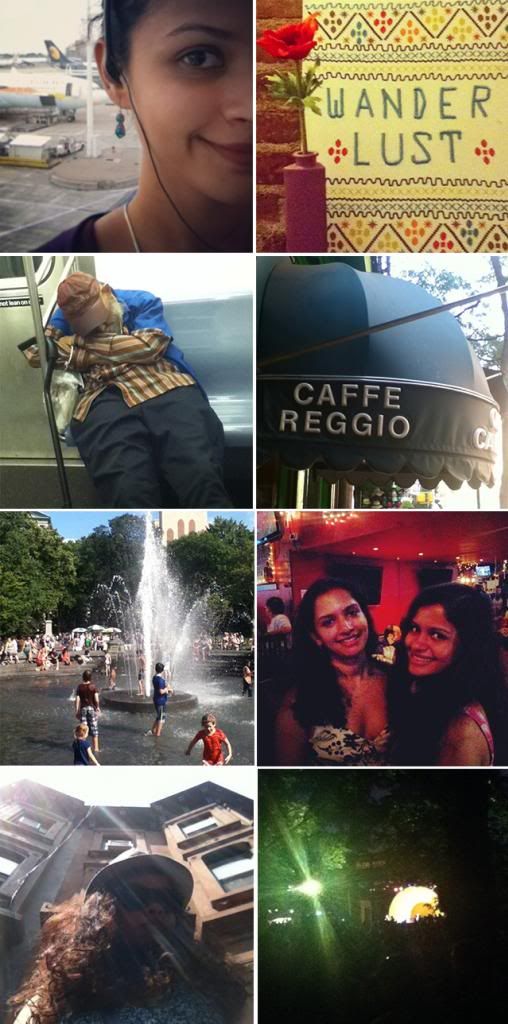 Y'all thought I forgot you again. But here's the thing; I never do! I do, however, suffer from this widespread epidemic called laziness. And if you add just the right about of memory loss to this, it results in what I am going through right now. So many times I forget to carry my little camera, and other times find it cumbersome to rummage through my bag of hidden treasures to find it. So this week I used my iPod to click pictures of interesting things, and made a collage. Problem solved!
The last week wasn't too eventful. I mostly spent it getting back into the New York routine (or lack of, actually). But the weekend was pretty interesting. I visited a cafe (Cafe Reggio) which apparently has been used to film some pretty famous movies, including Godfather II. I also visited Washington Square Park for the first time. It was filled with people, some playing chess, some enjoying the weather and some others splashing around in the fountain!
On Sunday, we went for a movie in Prospect Park. As a part of the Celebrate Brooklyn series, they played Beasts of the Southern Wild. What made it really awesome was that they had a live orchestra playing the movie's score! So cool. I also saw some fireflies in the park after ages. So yes, a very successful weekend indeed.
Have a good week, friends!