Running by the river
August 20, 2013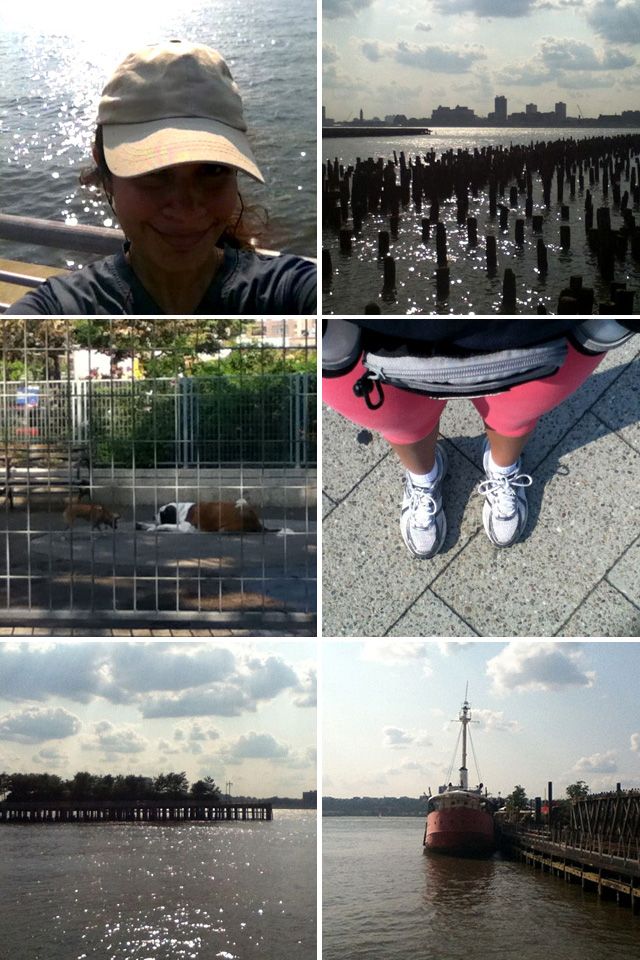 The day started with me wanting to cross an item off the still-to-be-completed
26 before 26
list. I thought I'd cover 'Run across the Brooklyn Bridge'. I figured since I was trying a new route anyway, I might as well go all out. I mean, what other way is there, right? So I decided to take a train up to 23rd street, and run downtown by the Hudson River. And from there I'd run into Brooklyn by the bridge. Simple enough. So I mapped out my run, and set forth on my mission.
Adding the run by the Hudson River was a really good idea, as it turns out. The view was so beautiful, and worked like a charm to get my mind off the achy joints and heavy head (it was sunny, yes) . There was a cool breeze by the river, which brought other people there. So yeah, some more people-watching.
I also crossed a couple of dog parks, and stopped to excitedly 'Aww' at all the cute dogs. Obviously. At one of the parks sat a Saint Bernard, with a little dog constantly yapping at him (as can be seen in the collage above). At first I felt bad for the big guy, and thought he was being picked on for being lazy. But as it turns out, he had a tennis ball hidden in his mouth (that he then proceeded to chew), which is what the little dog wanted. Adorable!
When I got to the Brooklyn Bridge, I was rather put off by the number of tourists walking across it. There was hardly any place to walk, let alone run. So I scratched that part of the plan for today. I'll try the bridge run at a better time (dare I say it, early morning?)
In other news, in my attempt to be fit (after 3 months of 'eat till you drop'), I have summoned the powers of social media. So, now you can view images of my running expeditions through the hashtag #RunTallRunStrong. This should be applicable on Facebook, Twitter and Instagram. Yeah, I think I have the important ones covered.